WE WILL BE CLOSED
MONDAY, SEPTEMBER 1ST,
IN OBSERVANCE OF LABOR DAY.
ENJOY YOUR LONG WEEKEND!
------------------------------------------
"Best for Birds" Cylinder Feeder FREE
with a purchase of any
2 or More Seed or Suet Cylinders*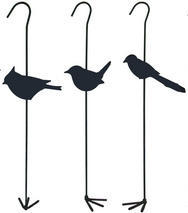 With several unique flavors to mix and match, our Seed and Suet Cylinders allow you to offer a variety of seeds, nuts, fruit, and suet to your birds. Our Cylinders are long-lasting, easy-to-use, and enjoyed by all your feathered friends.
AUGUST ONLY, get a FREE CYLINDER FEEDER with the purchase of any 2 or more seed or suet cylinders. Simply unscrew the feet at the bottom and poke the rod through the pre-made hole in the center of the cylinder. Birds will cling onto the side of the cylinder or perch right on top. This rod feeder works great with our 2 lb. and 4.5 lb. cylinders! Promotion good through 8/31/2014 only!
* Stackables are not included in promotion.
------------------------------------------
BUSINESS HOURS
Monday - Friday: 10 a.m. - 7 p.m.
Saturday: 10 a.m. - 5 p.m.
Sunday: 11 a.m. - 5 p.m.
Thank you for supporting your local businesses!
We appreciate your patronage!